Zumbul
Wedding Film & Photo studio branding and website
Visit website
Zumbul is a Film & Photo studio with a significant focus on documenting one of the most important days of people's lives – weddings. Its goal is to create digital memories from that day for all the upcoming years and make those memories vivid so they can feel them repeatedly. My role was creating the whole brand identity, concept, methods, products, videos, and website.
Symbolism
Zumbul is a flower originating from the Balkans, and it's often connected with old Bosnian culture. It symbolizes love, innocence, purity, and its pungent smell presents love.
Quality
Top-notch quality is a must. From a sharp professional photographs to high-definition films.
Emotions
Zumbul is genuinely documenting events in which people are making big marks in their life, with a goal to enable them to remember those moments for a lifetime and to allow them to relive those moments with sincere emotions.
Personalized
It is creating content that will be connected to the clients, and inspired by them, all with keeping the brand recognizable.
Signature of Zumbul
The logotype of Zumbul symbolizes the unlimited freedom that empowers love, and its simplicity in colorful life. It represents the game of different feelings and stories flowing through this studio's work, as well as all the ups and downs throughout our lives.
Symbol of Zumbul
Zumbul symbol presents the smallest unit of love – a couple. It shows the connection of two different individuals making one whole, a whole that presents a lot more than its parts: the beginning and the end.
Monohromatic
Use the monochromatic version of the trademark when the traditional one is losing its visibility and clarity. Such cases are color backgrounds, images, textures, etc.
Light of Zumbul
The color palette is taken directly from the flower itself. The lighter shades implicate emotions, love, romance, purity, youth, etc. They are used in the Zumbul garden, and on different elements of the composition if needed.
Complexity of Zumbul
In order to present the colorfulness, innocence, and purity of the people we work for, and at the same time the simplicity of love in this complex world, we created the Zumbul garden. Element with colorful flowers called "Mandala" in eastern cultures represents the universe, metaphysically and symbolically.

It is used as an addition to the Zumbul trademark in the same compositions with a maximal ratio of 30% respecting a composition as a whole. It is never used repetitively, but rather as a larger version showing only part of it in the parent element.

This element is not strictly defined, and can be adapted to different goals and emotions, but respecting basic requirements.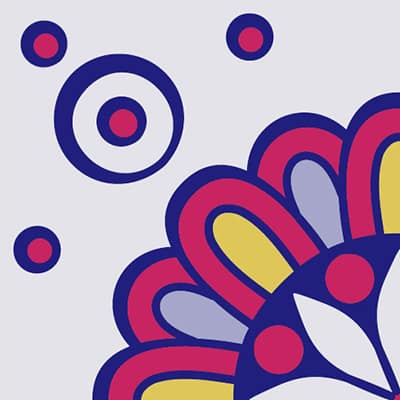 Website
The website of Zumbul is an archive of almost all weddings that the team saved. Each story would represent the couple and their spirit and energy. With its interactivity, the website is telling a story and presents all of the emotions frozen in time.